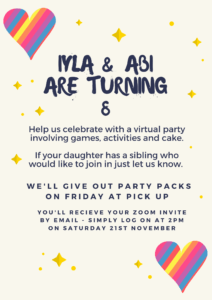 Abi & Iyla are turning 8. Please join us for a Zoom party @ 2pm on Saturday 21st November.
We will be doing word bingo, with prizes :-), a scavenger hunt & a craft activity followed by cake.
Your party bag contains everything you will need, apart from a pen to mark off the bingo cards.
Hopefully we will be able to somehow manage 20 girls on Zoom! Just click the link below to join us!