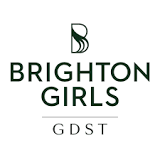 This page will hopefully help you setup & access the systems Brighton Girls have put in place for the girls.
All logins should be in the blue workbook they came home with.
Matt Costello
Contents
Computer Setup
The school uses a combination of google and microsoft systems for managing the logins. As many of you probably already use gmail and/or hotmail/outlook.com you are best setting up a separate profile on your computer for the each of your kids. Doing this will keep them separate from all your private stuff and avoid constantly having to log in and out of yours and their various online accounts.
If you have a chromebook, it's simple! When you switch it on, click on the 'Add Person' button at the bottom of the screen and enter your daughters gdst email address. e.g. [email protected] The first time you login you will see a special GDST screen. Enter email again and their password – passwords are all case sensitive so crunchy*****#
If you have windows you need to follow these instructions to setup a child profile https://www.windowscentral.com/how-set-kid-friendly-windows-10-pc-child-account
If you have mac then you need to use these instructions https://www.macworld.co.uk/how-to/mac-software/set-up-parental-controls-mac-3780629/
Now you're all logged into a nice clean profile for your daughter we can setup the schools cloud learning systems and bookmark them to make it easier for you (and the girls!).
As you login to each of the systems always remember to say yes if prompted to save/remember passwords, and bookmark the page you land on to the 'Bookmarks bar' folder by clicking the star in the address bar.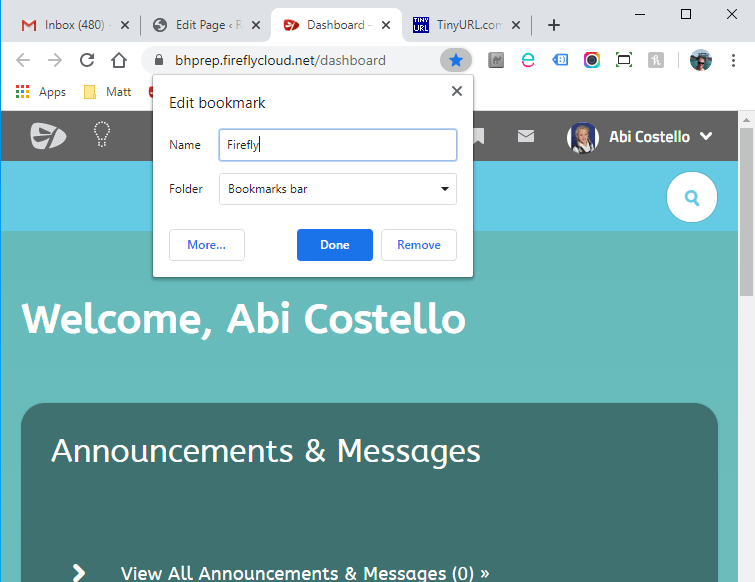 Google Chrome
If you are on Windows or a Mac then you need to install Google Chrome browser (rather than Safari or Internet Explorer). Download Chrome here https://www.google.co.uk/chrome/
Firefly
https://bhprep.fireflycloud.net/
Useful links:
Virtual School 20212021
Firefly is the first port of call for most things. You have two logins, one for parents, the other for the girls.
On this page you can login to your own parent Firefly using your email address, but you should really only do this in your own profile on your computer.
For the kids you need to click the link highlighted in yellow. It's a cut down version specifically to make it easier for the kids. It has none of the stuff parents see like report cards, attendance etc.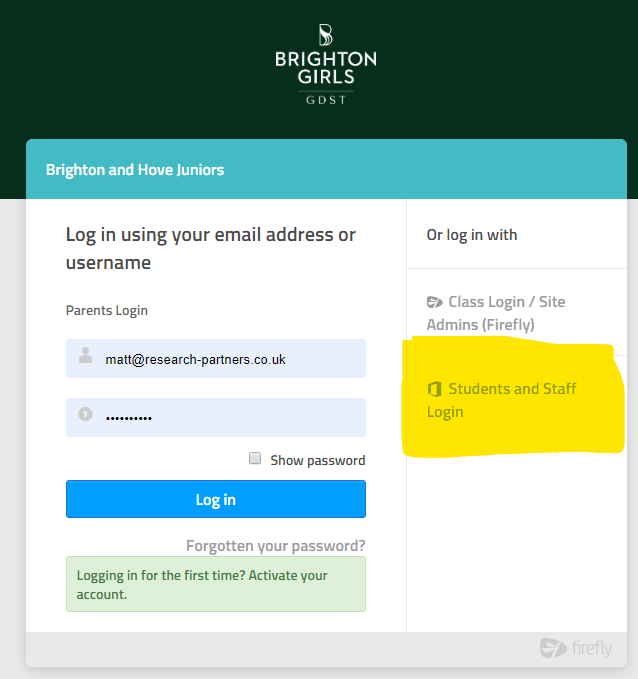 The login for this screen is the one like this -> [email protected] with crunchy*****# password.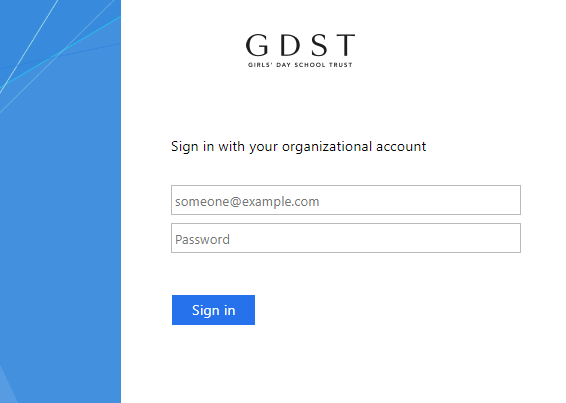 Once logged in say yes to save the password. Then book mark the page with a meaningful name to your 'Bookmarks bar' folder for easy access next time.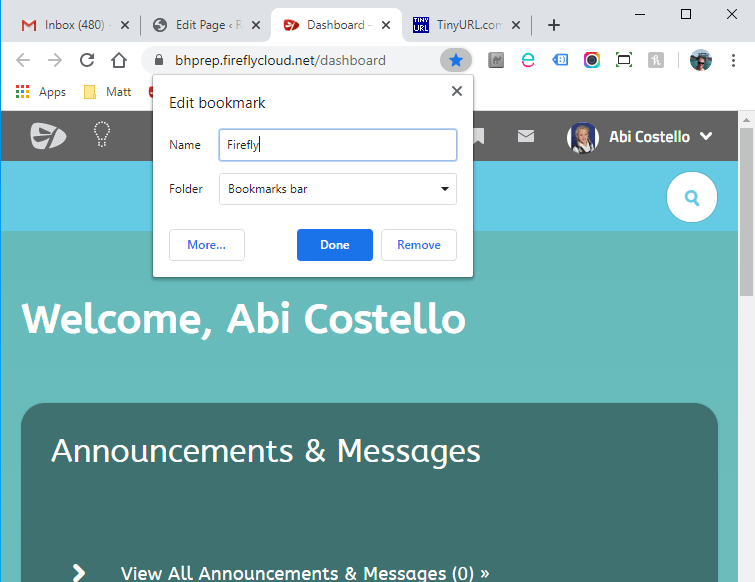 Now you are on the kids Firefly you have some handy links to Purple Mash, Discovery and the kids email. Teachers are sending emails to them so they need to check their email every so often. You can even email them yourself by sending an email from your own account to their [email protected] address. Handy for showing them how it all works. Abi is now emailing Claire herself 😉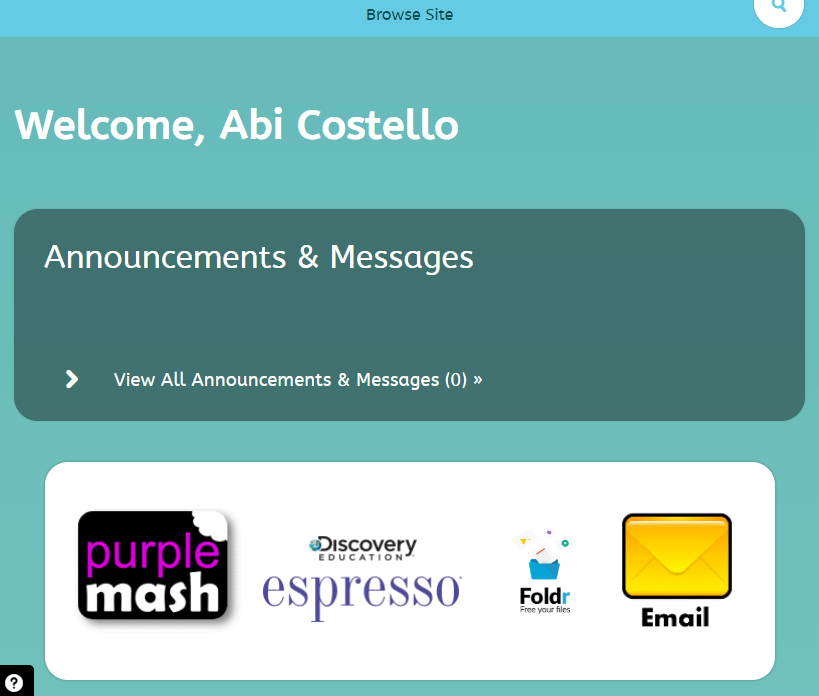 Seesaw
Where work/activities are set, where you hand in work and see teacher feedback.
If you don;t have their QR Code you can sign in with google i.e. their [email protected] + crunchy*****#
Once logged in, click on childs name top left & goto the classroom you want to view (usually just the 1 for Mrs C). You are then presented with their journal off all work & comments. There are tabs for Activities (new work) and Inbox (feedback from teachers).
To 'hand in' work the best way is to use Seesaw mobile/tablet apps then you can take photos and upload straight to the activity or journal . More info is here with links to install various apps:
https://help.seesaw.me/hc/en-us/articles/204687495-What-platforms-and-operating-systems-does-Seesaw-support-
Seesaw is one of the easiest to use, but if you get stuck they have a great set of help docs:
https://help.seesaw.me/hc/en-us
Email
If you got this far then Email is simple. It shares a single sign on system with the kids Firefly so just click the big yellow envelope on their firefly dashboard and you are taken to the cloud version of Outlook. Once in, bookmark the page.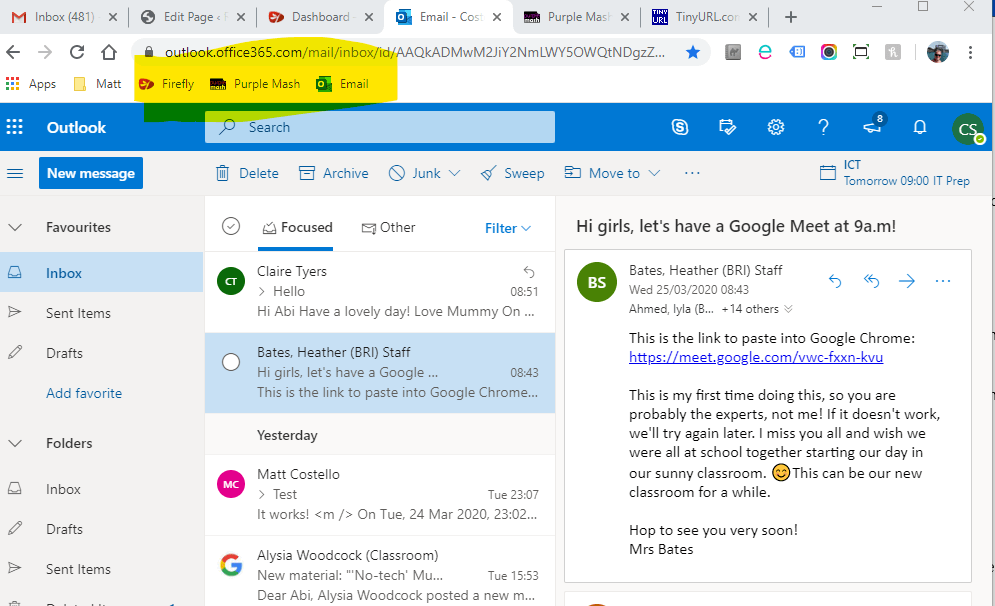 Google Meet
Google Meet is a video conferencing system allowing multiple people to take part in a video call. The login is the [email protected], so by this stage you should already be logged in!
There is an app version of Google Meet for chrome books, but it is not as good, so always use the browser version by going to https://meet.google.com/
How to Create a meeting
The girls (or you) can start a meeting, just give it a name then click 'Join Now'.
How to Join a meeting
If you are logged into a brightongirls.gdst.net account, as the teachers & girls would always be, the easier way to join a meeting is by using the name rather than the random codes generated
Year 3 / Mrs C use the following meeting names:
General class meetings: bgmrsc or bgyear3
English – bgmrsc or bgmrsbeck (not bgbeck as per an old email!)
Small group meets – bgmrsc
Assembly with Mrs Comerford : BGComerford.
All you need to do is goto https://meet.google.com/, click join and enter the name the meeting name e.g. 'bgmrsc'.
If you are NOT logged in as a gdst.net user then you would need to use the full link or code, e.g.
link -> https://meet.google.com/abc-def-ghi
code -> abc-def-ghi
You can toggle your mic and camera on and off or switch on captions by clicking on the main screen and a grey bar appears at the bottom.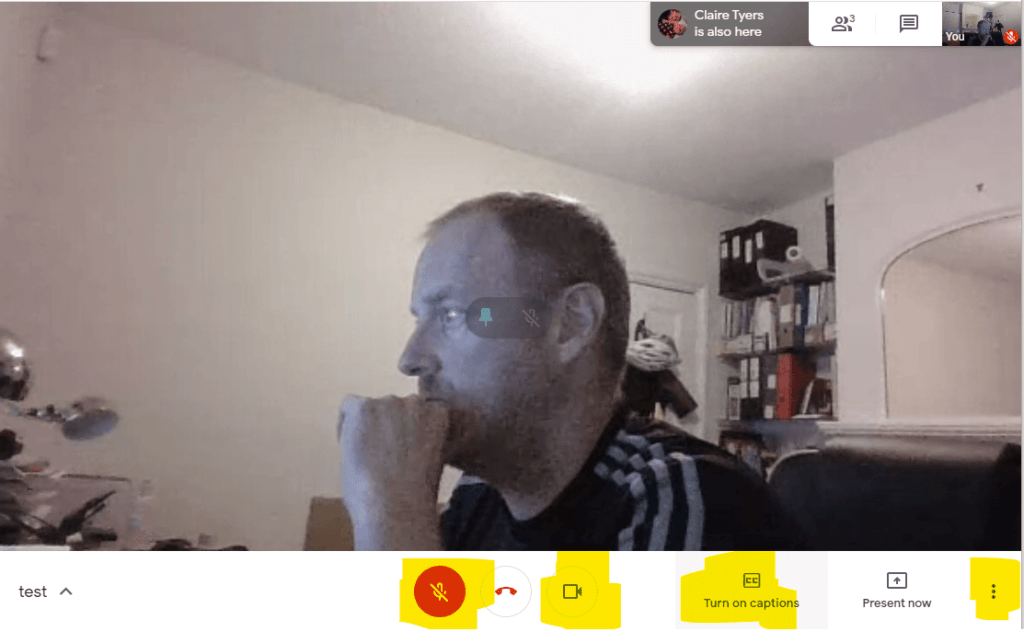 You can change the screen layout in the same grey bar by clicking the 3 vertical dots on the right and selecting change layout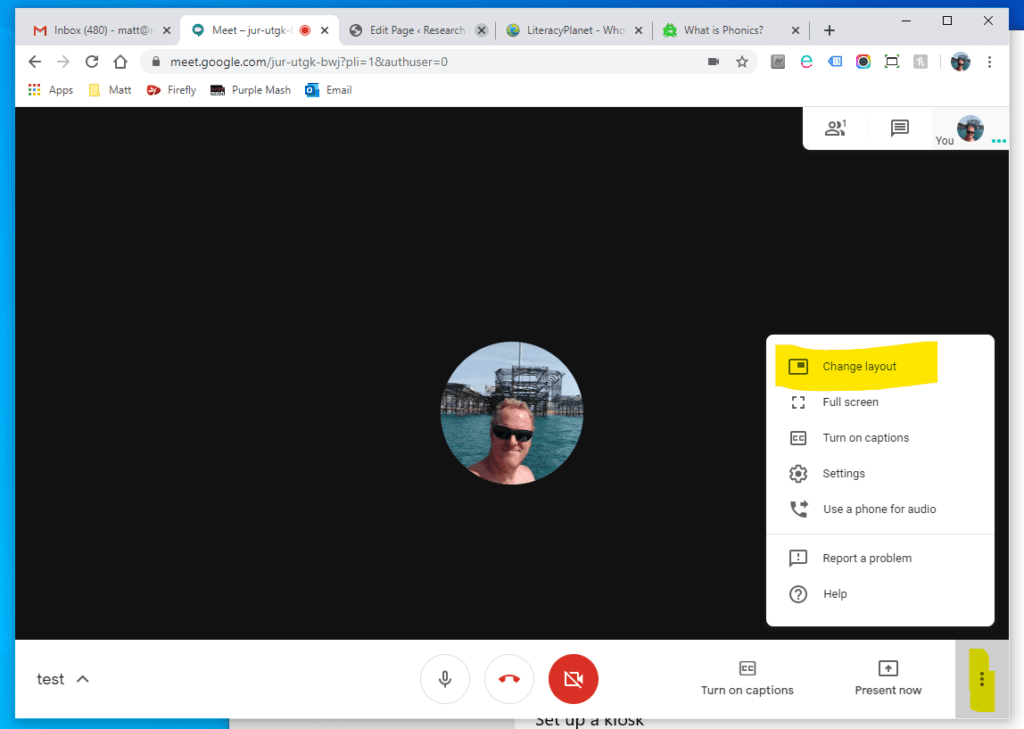 To see a list of the people in the call, or to open the chat window click the icons at the top right.

In sidebar mode the main video area will automatically switch to the person currently talking. This works well with adults who know when to be quiet, but not 7 year olds so well! To keep the main video area on a teacher, e.g. Mrs C, you can 'Pin' them in the side bar by clicking on their icon/video. Keeping them quiet is down to Mrs C;-)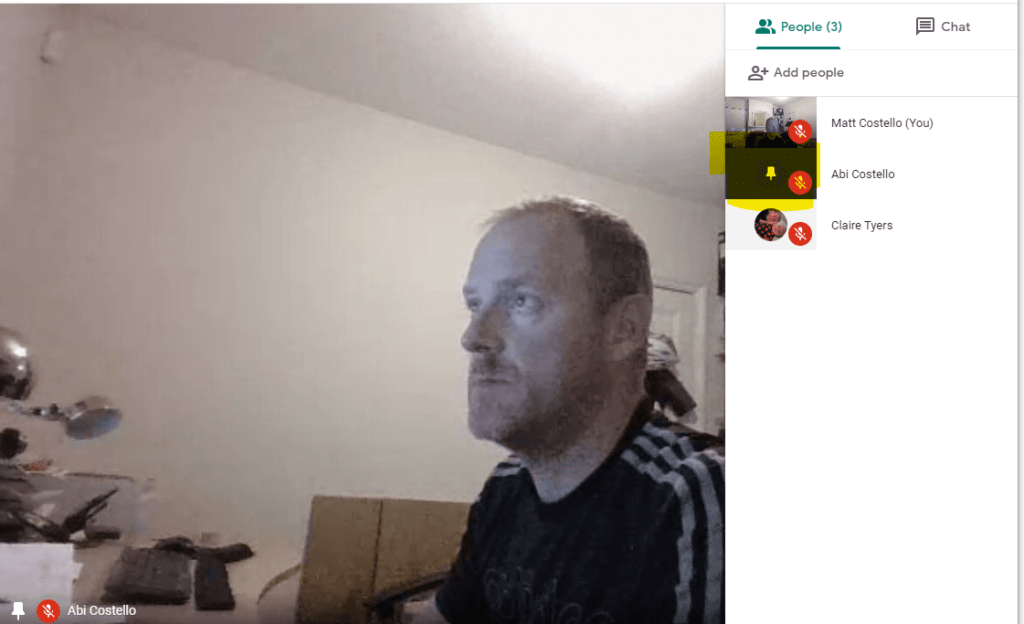 Google Classroom
Used more in older years but now being rolled out for pre-prep.
Purple Mash
https://www.purplemash.com/sch/brighton-bn1
Purple Mash is a great tool that the kids are being set tasks in by teachers. Abi & I are particularly liking the coding tasks, maybe me more than her 😉
The login details are in the blue workbook they came home with. It's their full name with no spaces. There is a 4 character animal character pin number for the kids to click in the correct order – e.g. Rabbit, Dog, Monkey Elephant.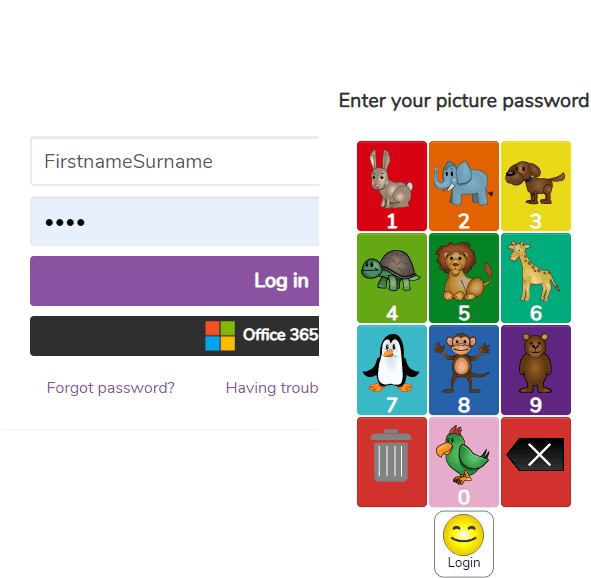 Again, once logged in remember to save password and then book mark the page you land on.
Purple Mash Parent Portal
There is also a password/parent code for the purple mash parent portal, just click on it. This allows you to see teacher comments on homework etc. You should probably do this in your own profile on your computer, the same as the Firefly parent login. Once setup, you will start receiving a weekly email update of your child's activity.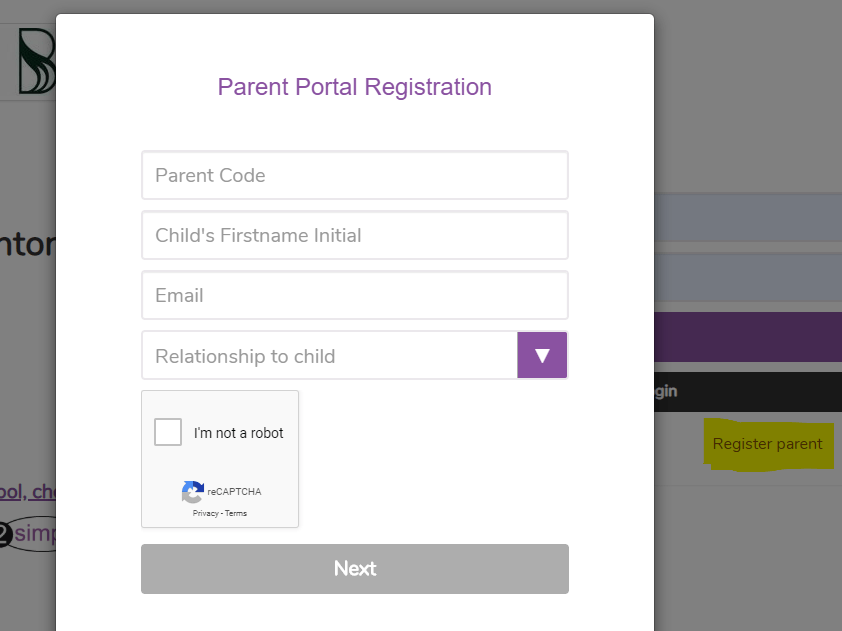 Once you are logged in there is a handy video explaining it all for you.
My Maths
MyMaths is also very good and the teachers have set plenty of tasks and some homework! Annoyingly it has a two stage login. The first is the school login. Again, these logins are in their blue workbook.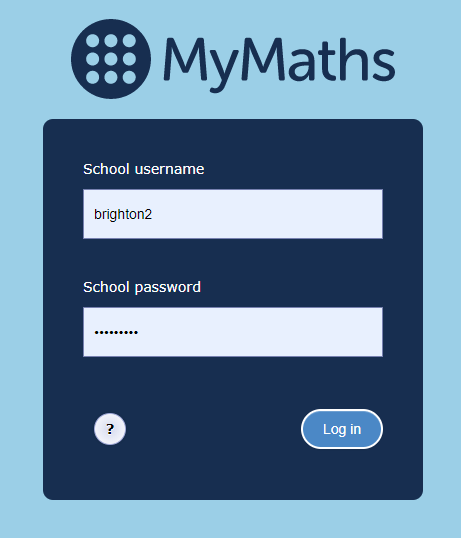 Once in save the password when asked. Next you need to login to the 'My Portal Login' to personalise it for your child and see all their tasks that have been set. Their portal username is 3 digits.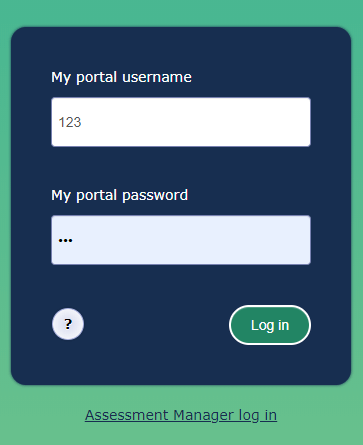 Again, once in save the password when prompted, and bookmark this page.
LiteracyPlanet
https://app.literacyplanet.com/login
More tasks being set in literacy planet by teachers so check in regularly.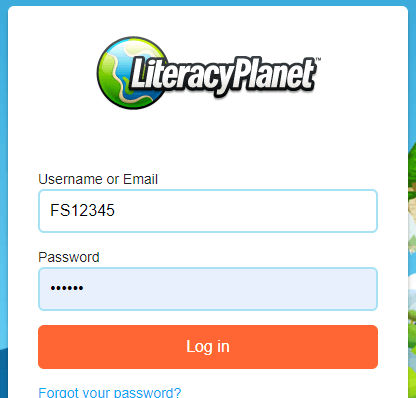 Once logged in, save password and book mark.
Important
Literacy Planet uses a technology called Adobe Flash, which is now a bit old. It is slowly being removed from the internet, but this website still uses it. You have to enable flash to make it work. To do this follow these instructions https://support.google.com/chrome/answer/6258784
Phonic Play
https://www.phonicsplay.co.uk/
A good resource for phonics, and they have just made it free for the next 3 months. The new version is better for the kids, but the old version has more info for parents about what phonics is!
Discovery Education
Some interesting stuff in there, the link from kids Firefly dashboard logs you straight in. You can't easily bookmark this though I am afraid.
Success!
If you have done all of the above you should now have everything you need, including a simple book mark bar for your daughter to be able to access all the systems they need, leaving you able to relax and have a glass of wine 😉